The shape of shower room is symmetrical arc fan commonly, still have square, diamond form and so on, have sliding door, fold door, turn axis door and so on, with enter a way cent to have Angle to enter or one side to enter a type.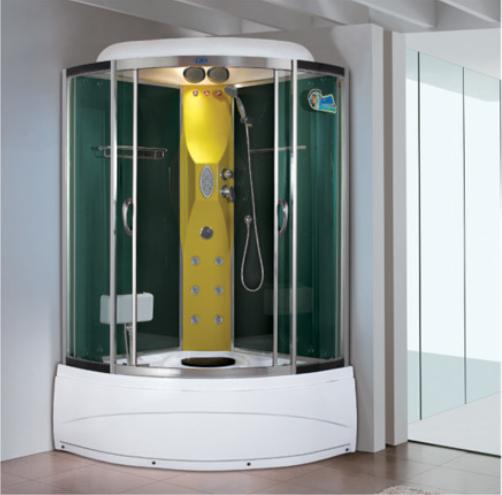 The biggest characteristic that Angle enters a type could expand usage rate, can use finite bathroom area better, square diagonal-shaped, arc drench, diamond form shower room belongs to this kind, it is the design that applies more.
  The shape of shower room of choose and buy should refer to the size of toilet and trend. Most people like to choose the shower room that is translucent, but traditional conservative (for example old person) also can accept cloth grain type not transparent shower room, because this should see the case that the family likes.
  The main material of shower room is toughened glass, the quality difference of toughened glass is bigger, authentic toughened glass sees to have faint decorative pattern carefully. When buying a shower room with steam function, pay attention to the steam engine and computer control board. The core of this steam function is the steam engine, if the steam engine does not pass, it will be bad in a short time. Computer control board also is the core place of shower room. Because all function key of shower room is on computer board, once computer board gives a problem, whole shower room cannot be used, because this is bought, must ask steam engine and computer board maintain time.
  The skeleton of shower room USES aluminium alloy commonly make, the surface makes spray model processing, not corrupt, not rusting. The thickness of main skeleton aluminum alloy should be above 1.1mm, which is not easy to be deformed. The ball bearing of the door must be flexible, easy to open and close, stainless steel screws, all hardware should pay attention to smoothness, scratched inside is not fun.
  Shower room chassis divides the basin with bath high basin and low basin two kinds. Take bath type to be able to sit a person, suit to have the family of old person or child, still but one jar is multi-purpose, wash clothes, fill water to wait, but make sanitation trouble. Low basin is more concise, the price is also low. Chassis quality of three types of glass fiber, acrylic, and diamond stone, the best fastness, dirt cleaning convenient.